5 Chic & Quick Toiletry Bags

Mini: 4-1/2in x 3in x 1-3/4in Small: 6in x 3-1/2in x 1-3/4in Medium: 8in x 4in x 2in, Large: 9-3/4in x 5-1/2in x 3in Flat Iron: 12in (or any length) x 3in x 2-1/2in. 5 sizes of toiletry bags featuring 1-piece construction & a very simple zipper insertion.


Price

$ 10.00

Quantity:






A Perfect Pair

This is Judy's premier pattern for Designs by Sew Deja Vu. It was inspired by a desire to create two bags using only 3 fat quarters! Enjoy!!!


Price

$ 9.00

Quantity:






A Perfect Pair Kit

This kit includes all you need to make 2 clutch bags...The pattern, 3 fat quarters, batting, zippers, and hardware. You'll whip these up in no time! Keep one for yourself and give one away.


Price

$ 24.99

Quantity:






Alder Shirtdress

Loosely fitted sleeveless shirt dress with two options. View A is an A-Line at the waist and features a curved hem, bust darts and two breast pockets. View B has a gathered skirt at the sides and back of the garment.


Price

$ 18.00

Quantity:






Applique for Modern Beginners

The goal of this book is to show you how making Applique Quilts can be manageable as well as enjoyable. Each quilt is designed using minimal piecing, large scale applique shapes, and bold color choices. The results are modern applique quilts that can be c


Price

$ 24.95

Quantity:






Backseat Babysitter

Keep passengers occupied and the car clutter free! Featuring over a dozen compartments of various sizes, this handy clutter buster easily straps to the back of the car seat and offers plenty of space for baby items, toys, and tech gadgets.Zippered and sli


Price

$ 10.00

Quantity:






Bendy Bag

Sew the zipper in straight, then bend the bag and stitch to create Bendy's adorable funky shape! Bendy is perfect for toting sewing gear, cords, goodies and more. Bendy unzips in one motion and stands at attention with a wide mouth for easy access. Rotary


Price

$ 10.00

Quantity:






Betsy Bag

Enjoy 3 different looks from the same bag! With clever construction, movable straps and a tuck-away panel, the choice is yours. Wear it as a large carryall, a drawstring bag or a smaller tote.


Price

$ 11.95

Quantity:






Billie Collage

The Billie Goat Collage pattern is created on a Pattern Ease foundation and includes full size, complete instructions; fused applique. Finished size: 43in x 45in.


Price

$ 30.00

Quantity:






Block Busters by Kariepatch Designs

Blocks and blocks! Create a fun, beautiful quilt with this pattern.


Price

$ 9.00

Quantity:






BQ5

This unlined swing coat features raglan sleeves & back yoke for a sophisticated style. Instructions include inseam pockets & two sleeve length options. Sizes: XS-3XL.


Price

$ 10.00

Quantity: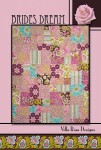 Brides Dreams

Brides Dreams 36in x 45in (47in x 56in with optional border)


Price

$ 2.00

Quantity:






Bridget's Bagettes

From Atkinson Designs. Speedy little bags with an easy edge finish. No binding, no fuss! Keep all of life's little necessities where you can easily find them. Mini 4-1/2in x 6in, Small 5in x 7-1/2in, 5in x 9-1/2in


Price

$ 6.50

Quantity:






Bright Birch Trees
Price

$ 10.00

Quantity:






Broken Dishes

Broken Dishes is a quick and easy paper piecing pattern. This table runner pattern is a wonderful introduction to paper piecing.Size: 18" x 54"


Price

$ 10.99

Quantity:






Candy Dish 16" square pillows

Pattern for 2 16" pillows uses Hex n More ruler by Jaybird Quilts or make your own template from this pattern.


Price

$ 6.50

Quantity:






Carnival by Jaybird Quilts

Create a chunky pinwheel that will take you on a spinning carnival ride. Small to medium scale prints work well with this pattern. Avoid selecting multicolored prints. Fabrics that read as one color will support the pattern design best.


Price

$ 10.00

Quantity:






Catch All Caddy

You'll love this over-sized, sturdy caddy with lots of easy-to-access slip pockets and dividers to hold and organize all your supplies. Seven slip pockets on front, back, and one end provide easy access to tools and supplies.


Price

$ 10.00

Quantity: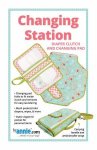 Changing Station

This compact kit is perfect for changing baby on the go. The attractive wallet-style clutch unfolds into a large, padded changing pad with plenty of pockets to store all the essentials.


Price

$ 10.00

Quantity:






Charm School

18 projects using pre-cut 5" x 5" squares.


Price

$ 25.95

Quantity:






Chopsticks

Chopsticks Quilt with other size options.


Price

$ 10.00

Quantity:






Daphne Handbag

The Daphne Handbag is a quick sew and fun to make! Finished size measures 9-1/2in wide at base x 9in high x 4in deep.


Price

$ 10.00

Quantity:






Daytripper Crossbody Case 2.0

Daytripper Crossbody Case 2.0


Price

$ 10.00

Quantity:






Diamond Alley by Sassafras Lane

Fresh, Funky and Fabulous! Display your favorite fabrics in these easy-to-construct, but difficult-looking diamonds. This modern diamond quilt is great for men and women.


Price

$ 10.00

Quantity:






Diamond Detour by Sassafras Lane

Show off your favorite prints, create a cascade of color or feature a single print as the background. The pattern included three sizes: Tall (33in x 45in), Grande (58in x 77in) and Venti (84in x 99in).


Price

$ 10.00

Quantity:






Ditto

Baby: 30in x 34in, Youth:40in x 50in, Lap 55in x 70in, Twin: 65in x 90in & King: 105in x 110in. Uses Creative Grids Lazy Angle Ruler CGR3754.


Price

$ 10.00

Quantity:






Diva Frame Wallet

This frame wallet will definitely turn some heads! It's the perfect accessory and so simple that even a beginner can do it. You'll want to make one to go with every bag you have! You can even use it as a clutch.


Price

$ 10.00

Quantity: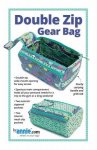 Double Zip Gear Bags

5in H x 7in D x 10-1/2in W Perfect for toiletries, electronic gear, or even clothing, this handy bag will keep you well-groomed and organized.The double-zippered top opens easily for full access to the roomy interior. Two zippered pockets on the outside a


Price

$ 9.95

Quantity:






Duffle Bags

The book features two styles of duffle bags in three different sizes. Great beginner project.


Price

$ 15.00

Quantity:






DUTCH WINDMILLS

DUTCH WINDMILLS 72" x 96"


Price

$ 2.00

Quantity:






Easy Breezy

Pattern in several quilt sizes as well as table runner. 44 x 55 or 54 x 74, 42 sq. or 20


Price

$ 7.00

Quantity:






Ebba by Laura Heine

Ebba the seahorse collage pattern by Laura Heine. Size 23x42. Pattern includes step by step instruction on how to make this collage quilt And full size pattern.


Price

$ 22.00

Quantity:






Emerson...by Laura Heine

Emerson Puppy Collage Quilt Pattern by Laura Heine is a great beginner collage project! 21" x 35"


Price

$ 25.00

Quantity:






Fabio

Grab your favorite scraps, bright zippers, extra pulls, then go wild or mild and make a few or a slew! Use Lazy Girl's One-Zip technique to cut the zipper, sew one side of the zipper in straight and flat, bend to make loop, then use Joan's trick to easil


Price

$ 13.50

Quantity:






Farrow Dress

The Farrow features an elegant A-line shape with flattering diagonal seaming concealing inseam pockets, and a jewel neckline. Imagine wearing View A during the balmy days of summer. View B features bracelet sleeves and is the perfect option for cooler tem


Price

$ 18.00

Quantity:






Firecracker by Jaybird Quilts

Mix brights prints with a contrasting background for an explosive quilt!


Price

$ 10.00

Quantity:






Flaura...My Vintage Trailer Collage by Laura Heine

Flaura, Laura Heine's vintage trailer collage pattern! Includes full sized patterns and instructions to complete this collage quilt. Finished size 42 w x 41L.


Price

$ 25.00

Quantity:






flipside

y'all can flip & flop these blocks on all sides to create a quilt that's sure to be loved. finished size: 58" x 58"


Price

$ 9.00

Quantity:






Florence Flamingo

Florence Flamingo Small Quilt 45in x 45in Large Quilt 59in x 79in.


Price

$ 12.00

Quantity:






Fold'n Stitch Wreath

A dimensional wreath or a fun table topper - you decide! Easy enough to whip up in an afternoon!


Price

$ 9.50

Quantity: