---
Cadence Court
Block of the Month


Join us for this exquisite block of the month! During the twelve month program, you will make 24 total wedges featuring 12 unique designs. This quilt is paper pieced and finishes at 60" x 60".

$16.99 per month from April 2018 to March 2019.
Pay first and last month's fee when you register. Kits are limited so call or register today!


---

Pincushion Collage Quilt
Pincushion Collage Pattern by Laure Heine
available here

___________________________________________


Machine Quilting Services

&

Custom T-Shirt Quilts


Call for more information:
330-653-5598

_________________________________________________


Welcome to Sew Deja Vu! Judy Phillips and her girls (and you know who they are) are here to inspire and take your creativity to a new level. We are abounding with fresh new ideas, classes and the trendiest fabrics you'll find anywhere!
We are looking forward to being your premier sewing and quilting boutique!

Our address is 1608 Norton Road, Stow, OH 44224. We are at the West end of the Stow/Hudson Towne Centre (at the intersection of Route 91 and Norton Road). Our phone number is 330-653-5598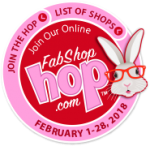 February hint...the bunny was looking to sign up for our newsletter
to hear exciting news about sales and events at the shop.